Concert Recap | Behind the Scenes of the Making of the Sinatra Project CD | One Fan's Review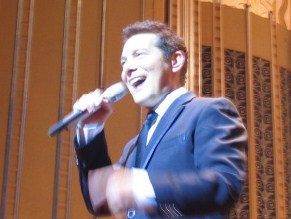 The Sinatra Project Concert Recap

Cleveland Orchestra | Severance Hall

October 16, 2010


Joining the Cleveland Orchestra in Severance Hall, Michael Feinstein opened their Celebrity Series with his "The Sinatra Project" program. He brought along musical director Bill Elliott, who did most of the charts for Feinstein's cd of the same name, and "the drummer that keeps him in line," Albie Berk.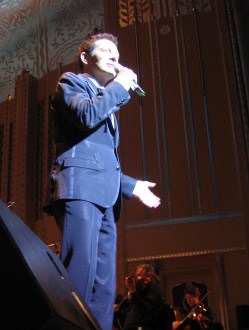 Getting off to a rollicking good start, he opened the show with Luck Be A Lady which was followed by a beautiful medley of songs. Then turning to the specific focus for the evening's program, Michael shared with the audience that Frank Sinatra had changed the face of American popular music as we know it. He made songs his own. He changed with the times and gave a new and fresh idea and approach to songs, having sang in the 40's in the crooner style, and then in the 50's it was swing!!
Explaining that he hadn't approached the "Sinatra Project" an attempt to imitate Frank, but rather as a way to give life to songs that Frank hadn't recorded in that distinctive swing style. The first example he shared was I Thought About You followed by Exactly Like You, which was done how Michael imagined it would have sounded if Frank had recorded it with a Billy May orchestration.
With obvious pride at having developed a personal relationship with Mr. Sinatra, Michael told the story of how he came to meet Frank. When he was still struggling to "make it" in LA, Michael was booked to play a private party for Frank at Chasen's. In preparation for providing the evening's music, he learned every obscure song that Frank had ever recorded. At the end of the evening, Frank came over to him and said, "Jesus, how do you know all of those songs? What are you twelve?"
Michael shared that Frank loved Jules Styne and Sammy Cahn's songs and his favorite 40's ballad of theirs was Time After Time which he did beautifully. That was followed by Cole Porter's So In Love from his show Kiss Me Kate.
Just at Michael was about to sit down at the piano to accompany himself on Johnny Mercer's Fools Rush In, an audience member's cellphone went off. This proved to be a wonderful impetus for the audience to hear just how phenomenally talented a pianist Michael is and how when he says he learned to play by ear, he really means it. He played back the ringtone we'd all just heard, and then he expanded on the little ditty and played it in various styles and made it sound like a classical piece of music. It was very impressive.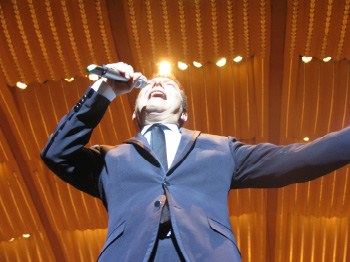 Next Michael talked about what a great friend Frank was to his friends and how he would often gift them with songs and how usually they became great hits for the singers. One example was Sammy Davis Jr.'s huge hit What Kind of Fool Am I, which Michael nailed! This song really showcased Michael's range and the power of his voice. Very moving.
From Moss Hart and Cole Porter's show Jubilee, which one critic described as having no good songs, Michael gave us his version of Just One Of Those Things.
After a brief intermission, Michael opened the second half with Cole Porter's At Long Last Love, which was followed by a little plug for his American Songbook series which is currently airing on PBS.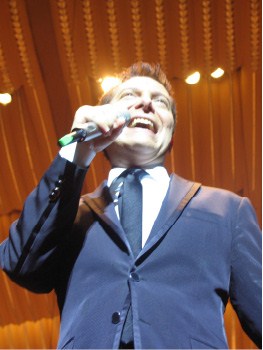 Frank often recorded Oscar nominated songs, one such example that Michael shared with us was How About Me which was from Babes on Broadway (it lost to that little number by Berlin, White Christmas). This was followed by a song Michael said lets him feel like a "heel" for just a few minutes, Cole Porter's It's Alright With Me.
Describing how Frank often referred to himself as a saloon singer, singing saloon songs, Michael figured that the description involved a drink in one hand and a cigarette in the other singing about lost love, heartache and pain in his life, which Frank had his fair share of. Michael recounted that once a friend was on a plane with Mr. Sinatra who appeared very sad. The friend asked him if he missed his wife, and Frank replied, "I miss all of my wives." This story served as the introduction to Johnny Mercer's I Remember You, which was supposedly written after Mr. Mercer's short fling with Miss Judy Garland.
Paying homage to Frank's love for classical and classically themed music, Michael performed an instrumental version of Brazil that was arranged in a Billy May fashion.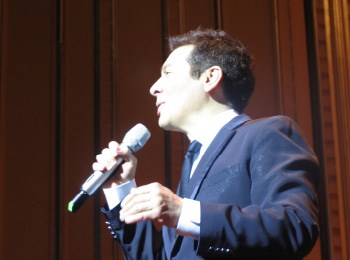 After asking the audience if they knew whose music Frank recorded the most, and having one very informed gentlemen shout out Sammy Cahn (with 88 songs), Michael performed two of Sammy and Jimmy Van Heusen's songs. The first, one he said was a favorite of the Sinatra family, and the second an Oscar winner, All of My Tomorrows and All the Way.
Taking another selection from the Broadway show Jubilee, Michael performed Begin the Beguine. This was a song Frank had recorded in the 40's but never recorded it again. Michael's version was arranged to sound as if Nelson Riddle had written the charts for Frank back in the 50's and boy did it ever.
Closing out the show Michael gave beautiful readings of For Once In My Life and The Lady Is A Tramp (with enthusiastic audience participation).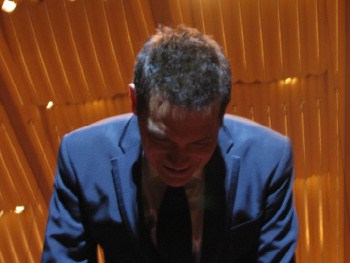 For his encore to the very appreciative audience he sang New York, New York.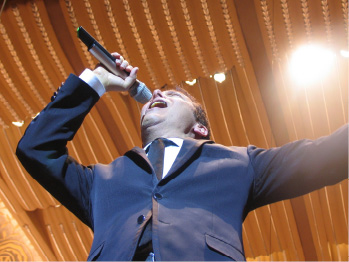 It had been a beautiful night of music and for those willing to stand in line, it didn't have to end when the orchestra left the stage. Michael had graciously agreed to autograph CDs after the performance.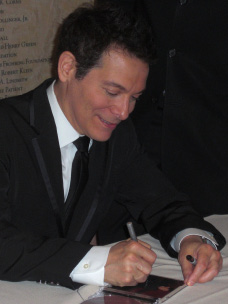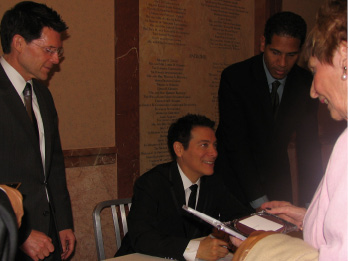 ---
"Michael...is one of the protective caretakers of the Great American Songbook. He knows everything there is to know about the Gershwins, Rodgers, Hart, Hammerstein, Porter and the rest of the people who composed our favorite music. We should all be grateful to him for his hard work...." Nancy Sinatra
---
If you love the songs of the Great American Songbook, if you are a fan of Rosemary, Frank, Bing, Tony or Peggy and you have never seen Michael Feinstein in concert, or you haven't seen him in the last couple of years, then GET THEE TO A CONCERT AND FAST!! You will be oh so glad you did.!!
Michael, like his friend, mentor, and LA mother Rosemary Clooney, only gets better with age. He was born with undisputable natural talent as a phenomenal pianist and gifted singer. It's like he's grown into those talents, he knows how to use each of them to maximum effect in delivering the song. He's comfortable on stage and has developed that give and take with the audience that was always present in those singers' performances that he so admired. And...he's funny...make that hilarious!!
I'm more convinced then ever that it really takes having some living under your belt to be able to do justice to these timeless songs. When Michael first came on the scene, it was like he sang the song the way he "thought" it should be sung. It came from his head. Not any more. Every song he performed in this concert felt as if it came seamlessly from his heart. With personal feeling fueling his talent and control of his impressive voice he was able to fill that glorious hall, touch the audience and even move some of us to tears.
Prior to this concert if someone had asked me if I knew what the Nelson Riddle sound was, I would have said something like, "yes, it's what's behind great recordings by Frank, Rosemary, Nat and others." I didn't know that I really knew what that sound was until Michael performed Begin the Beguine. As soon as the music started, I immediately realized what the sound was. You just learn so much at a Michael Feinstein concert.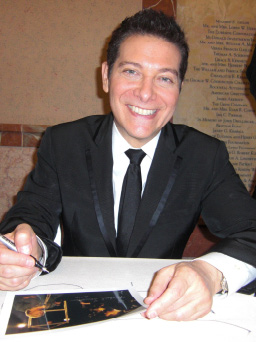 As the evening progressed and he told story after story of each song, or songwriter, or Frank's connection to them (without one written note), I couldn't help but marvel at the fact that he could just as easily have shared a "Crosby Project," "Clooney Project," "Gershwin Project," or you name it project with us. He really does know that much about these singers and songwriters of the golden age.
Yes, he's the professor of the American Songbook and the protector of the legacy of our treasured songwriters, but he's also one hell of an entertainer. So again I say, GET THEE TO A CONCERT AND FAST!!
Michael's production manager indicated that a number of his shows in November will focus on the Sinatra Project.
---